With its gleaming, icing-sugar beaches, off-island cays, consistent warm breezes and calm waters, not only is Anguilla an ideal Caribbean destination, if you are in search of a little boost of adrenaline, it also happens to be an ideal place for kite-surfing. While most visitors head to Anguilla to stretch out by the pool or recline on the sand, it is definitely gaining popularity among the adventurous types whose idea of fun is being pulled through the water while strapped to a board. So why not combine Luxury and adventure in Anguilla?
Often described as a combination of surfing, wakeboarding and windsurfing, the idea – and goal – of the sport is to catch the wind with your kite and use it to build enough energy to catch waves. Often times, you'll find yourself airborne, soaring 10 to 20 feet above the waves (and even higher) for short periods of time, and if you are particularly talented, you can even throw in a few flips and back-flips in for good measure. Completely exhilarating, it makes for an exciting (and dare say, wonderfully exhausting) day out on Anguilla's bright turquoise waters. Better still, there aren't any aggressive kite-surfers jockeying for the best positions, that type of competition just doesn't exist here, making it an ideal spot for those just learning the sport.
There are also a variety of locations to take advantage of, with something to suit any level of experience – from the more exposed spots with 10 to 20-foot waves for the more advanced kite-surfer, to the calm, sheltered area with sandy bottoms perfect for beginners. And of course there are those consistent trade winds that blow through from the east all year long.
Anguilla Watersports is a local outfitter that your villa's Local Host will happily coordinate with to get you and other members of your group out on that water for a fun-filled day out. The owner has taught every age and stage, from kids as young as 8 and up. (They also have an inflatable water park and offer kayak and stand-up paddleboard rentals for those who would prefer a more low key day on the water.)
Watersports are easily accessed from all of the HostedVillas homes in Anguilla but the west end of the island offers Meads Bay and the prestigious Rendevous Bay and here you'll find some of the best beaches for activity. Villa Kandara and The Beach House are among our favorites in the area.
Villa Kandara not only offers its own private beach but is also steps away from world-class golf.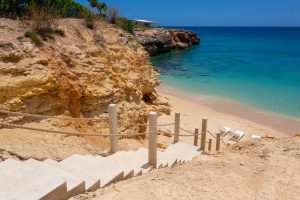 Six gorgeous suites round out this incredible villa which also includes complimentary breakfast, daily housekeeping, pre-villa stocking, a butler, and a concierge dedicated to you for your entire stay.
The Beach House, included in our Chic Boutique collection for its incredibly sleek interior design is the definition of beachfront luxury and is just five minutes away from Anguilla Watersports.
Boasting a full acre on prime beachfront, this home has 8 master suites and 10 master baths with more than a dozen outdoor deck areas for entertainment or quiet solitude.
Explore with us at one of the Caribbean's best-kept secrets